The Importance of CERP eCampusPRO, the School management solutions
---
Posted on 19 Mar 2019 By Admin
---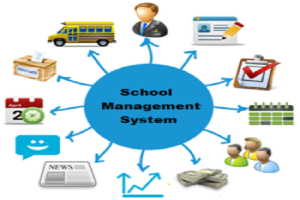 ---
Owing to Advance Technology growth, today every industry is growing rapidly. We have taken care by designing our Academic Software, how this growth matters in the Education industry: Schools are the organization that plays an important rolein student's life. Though our School Management Software, we take care of efficiently managing various departments of the school. We have designed our school software keeping in view following 4 stake holders:
Parents
Teachers
Students
School Management
While our School management software help improving the functioning of school, our MobileApps helpseffective communication between the stake holders.
Listing few key factors in the school management
Centralized attendance management
By removing the old method of managing attendance manually in registers as it is highly error prone as well as sometime students also mark fake attendances. Hence, it keeps details about the attendance of students and teachers on daily basis.
The attendance can be marked either period wise attendance or class attendance. For easy attendance keeping the same can be done either daywise, weekly once, or monthly once based on the need and time availability of the staffs.
On the other hand through our Mobile App, teachers can mark details of absent students to which will reflect in parents apps and keep them updated. The above Solution is more beneficial where the number of school branches are more, where we help for a centralized attendance solution, thereby an accurate data and also a measurable metric savings for the school.
Automated fee management system
In a busy schedule, sometime parents forget to submit fees and this lead to imposition of penalty per day. Therefore school management app, proves to be great benefit for parents as it provide an online payment option to parents as well as send them notification about due date of fees, fine imposed on late submission and many more.
eCampousPRO will not only beneficial for parents but it proves to an excellent solution for schools to manage their financial departments paperless as, it keep record of fee details students wise, fee collection wise, period wise etc., the way the management want to check the fee collection any time any mode
Transport management Solutions
Nowadays, most of the schools are located out of city, so parents are concerned about the safety of their child transportation.
Our software helps the parents as well as school to manage their transportation in a systematic way with automated communication. Its mobileApp sends details about driver and route of the bus to parents. It also notifies about present location of their school bus through GPS tracking. It also help schools to manage details of every school bus, its driver information, route details and GPS tracking information efficiently.
CERP School management software and MobileApp is designed using latest technologies that cut downthe cost of managing schools and improves the efficiency of each department. That is why we believe, your investment on eCampusPRO is a wise decision, owing to our measurable metric approach.
Leave a Comment: